Back in the summer of 2015, I had the pleasure of working with an amazing woman, Sofia Garcia Ladera! She is a transformational coach that helps successful, but unfulfilled women live their dreams in both their professional careers and relationships. This former corporate attorney is based in the UK, but travels all over the world working for her clients. She clearly has a passion for life and helping others find their passion too!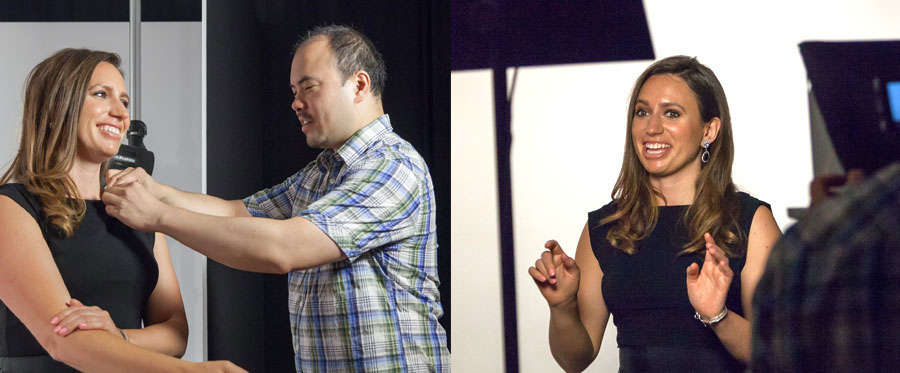 Photo by Alan Barnett Photography
First, she had a photo session with NYC Photographer, Alan Barnett at his studio in Chelsea. I walked in later that morning, and they were in the middle of shooting promotional glamour shots! After the fun photo shoot was done, we got down to business to film her life-changing inspirational message. After a couple of hours, we were done. She got through her script like a champ. Reading from a teleprompter with feeling takes tremendous skill. The trick was no trick at all. She came prepared. She believed in her words, and she knows her methods work.
This winter, Sofia contacted me again and wanted to do a longer program. This time, she booked the largest room in a hotel in trendy Nolita. I came in a day before to leave drop off my gear and look at possible setups. I came back 8 am the next day, the hair and make-up artists were already working on Sofia. After that was done, it was time for her to deliver her message. This time, she had to do it a vibrant red evening dress while under the weather. To make matters worse since I had to have perfect framing, I had her sit on the very edge of the bed with no back support, plus check out was at noon! Try doing that for a few hours while focused on delivering a message. She is a real pro! She got through it with a great attitude, no complaining & no excuses. Panic is not in her vocabulary.
When it came time to reviewing the footage and going through the takes, the editing process was a breeze! She knew exactly what she wanted.
I look forward to working with Sofia again so she can help "transform" more lives!